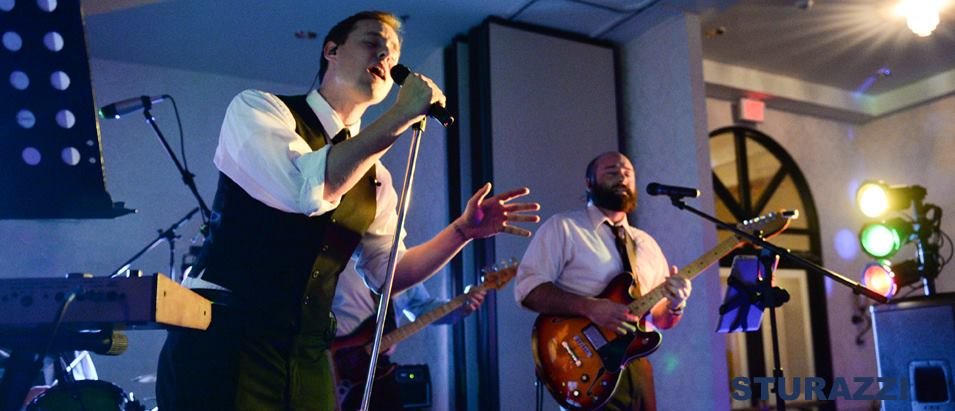 We had a great time at Evan and Ciara's wedding last night at The Eastonian (Kunkle Drive in Easton/Palmer Township, PA).  It's really enjoyable meeting couples getting married and hearing their thoughts on their music for their big day - it's such a huge part of people's memories that we realize the importance of our job when we're hired for a wedding.
Typically, we'll learn songs for the couple if we don't already know their "first dance" songs, or learn other songs that the couple really wants to hear during their reception.
Ricky's going to kill me for mentioning it, but he's a huge fan of Wilson Phillips. As am I - I totally wore out my cassette.  Their song "Hold On" recently came back into the public's collective consciousness after the song was featured in the hit movie, "Bridesmaids." When Ciara mentioned she's a huge fan of the movie and wanted us to learn "Hold On" for their reception,  we were openly excited. Harmonies! That's one of our specialties.
In addition to that, Evan and Ciara were fans of the Ataris, a pop-punk band known for their cover of the Don Henley song "Boys of Summer" a few years back. They asked for us to put together an acoustic version of the song "I.O.U. One Galaxy." Normally, it's a faster-paced rock tune. Ricky and I worked out an arrangement where we alternated lines and added harmonies to make a slow-danceable song for Evan and Ciara's first dance.  We knew we hit the mark when we saw the two dancing, totally absorbed and enjoying the moment.  That's probably our favorite part of being a wedding band - helping to create the special moments that people remember forever.
At the bride and groom's request, we'll record a version in the studio that they can keep forever to remember the moment (and our arrangement). That's a unique service that we can offer to our wedding clients that doesn't cost a dime  - we enjoy the creative process and the challenge of arranging a song to capture our brides' and grooms' visions. 
Have a wedding coming up? Have some creative requests or dreams for your special event?
Contact us
. We can help make those dreams a musical reality.
Peace, Love & Rock 'n Roll,
Christine