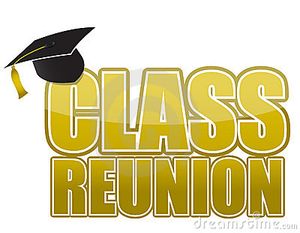 Thanks to Pius X Class of 1974 and Dunmore HS Class of 1989 who just booked 
Sunshine Symphony
 for their class reunions!  We hope this is a trend that's continuing.  
We love the idea of bringing a live band to a reunion - there's no better icebreaker than getting everyone on the dance floor with a nostalgic song from your high school years. We always like to go the extra mile when it comes to keeping our clients happy, and we enjoy learning new songs to enhance the event. One of the most fun parts of our job is looking at the Billboard charts for the top hits of that year, and deciding which ones we think will go over well with our audience.
Cara booked us for her class's 25th high school reunion after seeing us perform at Bar Louie in Wilkes Barre. She really enjoyed our variety of music.  1989 was the year of power ballads, including songs from hair bands like Skid Row, and pop/rock bands like Bon Jovi and Poison. Since we grew up loving late 80s music, we're not too proud to admit we already know some of the big hits of 1989, like "When I See You Smile" (Bad English) and "Lost in Your Eyes" (Debbie Gibson). We may have to break a few of those out for slow dances at the reunion.
The Sunshine Symphony duo of Ricky Bell and Ian Frey will be playing the Pius X Class of 1974 reunion at Northampton Country Club. Great songs abounded in 1974 as well - an era that included disco, soft rock and plain old rock n roll! Top hits in 1974 included "Jungle Boogie" by Kool and the Gang, "The Joker" by the Steve Miller Band and "Sunshine on my Shoulders" by John Denver.  
Interestingly enough, there was one song that was a Top 100 hit in BOTH 1974 and 1989, can you guess what it was?
"Rock On' - recorded by David Essex in 1974 and Michael Damien in 1989. So if we learn that one song, we're covered at both reunions!
If you're planning a party, wedding, or class reunion, consider live entertainment to make it a party that no one will ever forget!  Ask Sunshine Symphony about performance options - we can perform as a full band, as a duo or a trio to deliver live music at an affordable price.