We have had the opportunity to play at a couple of beautiful outdoor weddings in the past two months.  We were thrilled to be a part of Sandy and Josh's wedding at their friend's gorgeous home in Zionsville, and Lindsay and Charlie's wedding in Richlandtown, PA.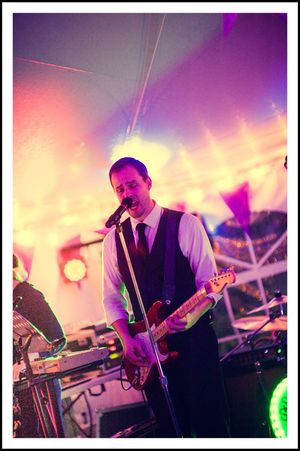 Sandy and Josh's day started with pouring rain, which caused the ceremony to be moved inside to the lovely Chateau Peach, their friend and photographer's home. As the guests arrived, we set up in the tent, complete with sides, which were essential to keep our gear (and us) dry.  By the time the ceremony was over and the guests emerged from the house, it was only a drizzle, which eventually cleared to blue skies and sunshine.  The advantage of hiring an experienced wedding band is that we have performed and worked with all kinds of family situations. Sandy and Josh had teenage children from previous marriages, and didn't want to do a father/daughter dance in a traditional sense - but they did want to dance with their own children. We played Five for Fighting's song "100 Years", Sandy and Josh each danced with their children, and each others' children and then invited other family members up to join them, which ended up being a lovely tribute to their blended families.  An ice cream truck surprised guests later, and the night ended clear and chilly, with fires burning outside to keep everyone warm. 
Sandy and Josh had these nice things to say in their 5-star review: "So easy to work with and so organized in their delivery of events. Thank you so much! Keep rocking rockin' in the USA Christine & Ricky and the rest of the band."
Lindsay and Charlie got married on Lindsay's family's historic property in Bucks County. Her family renovated their circa 1800s farm house over the years.  The property included a genuine pottery barn - literally, a barn where Lindsay's mother, a potter, practiced her craft. Historically, the barn had been used for pottery-making for many years prior to that!  They also had a generous, flat lot with a chicken coop that Lindsay and Charlie used as a bar.  The couple also held their ceremony on site, overlooking a grove/marsh framed with grasses and reeds. As it happens sometimes with weddings, there was a snafu happened when one of the shuttle buses bringing guests to the site broke down, which meant that another bus had to go rescue the stranded wedding guests. The bride and groom didn't want to start the ceremony without those guests - so we kept everyone entertained in the meantime.
Here's what Charlie and Lindsay had to say about it:
"On our wedding day the band was prompt in setting up and were ready to go exactly at the planned time, unfortunately the transportation of our guests was unexpectedly running behind - the band was flexible and continued to play mixed tunes while the guests mingled. When the time came for their set to start they rocked the house! "
Charlie and Lindsay's big day went smoothly from there, and a bonfire and fireworks closed the night.
Thanks to our experience performing at weddings, and years of event planning and other professional experience, we know how to handle situations as they come up. Staying calm and cool and troubleshooting is what we do! We have worked with people in the past who have toed the line of professionalism when something doesn't go as planned. While it's important to stay on schedule, we do understand that things come up, and we will make sure everyone is having a good time, while always handling things professionally.
Photo credit: Top photo - Terree Yeagle,
The Moment Photography
Other photos: Taken by Christine