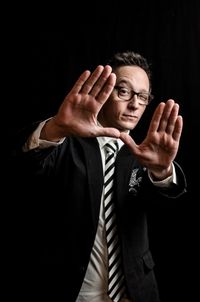 Sunshine Symphony is excited to announce the addition of guitarist/vocalist Kyle Campbell to the band. Kyle is a native of Nazareth, PA, where he played with local band original/cover band Project 67 and won two WZZO Backyard Bands competitions. 
Interestingly enough, Ricky and Kyle have many mutual musical friends and have almost crossed paths in the past.  They realized this after Kyle agreed to join the band and they started determining whether they had jammed together previously.
Kyle's been involved in many different projects over the year, including writing and recording original music as a solo artist. He is releasing his solo album "Sunday's Best" in mid-January.
We think Kyle is a nice guy, with a great sense of humor, serious guitar skills, and may now be the most stylish member of the band. Kyle and his wife Teara live in Manayunk, but have family up here that you'll probably see at some of our local gigs. You may even see a bit of Sunshine down in the Philly soon, too.