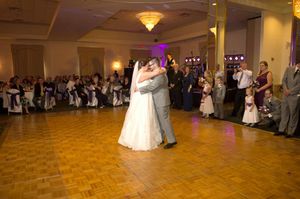 Some of the hardest decisions to make for couples are songs for the special moments of their receptions. What songs work well for bridal party introductions? What about a first dance? You'd be surprised how many times we hear "I'm not sure what song to dance with my Mom to..." or "I need a good father daughter dance song!" Of course this changes as new songs come out, but classics remain popular over the years and are still chosen today.
We also hear: "We don't want to be the center of attention for the entire 5 minutes of my (first dance/father/daughter/mother/son) song, because that makes us uncomfortable." - a lot. The beauty of a live band is that we can edit the song for you. Many times, we play the first verse and a chorus or two, and try to keep the song at about 2 minutes or 2:30, which is the sweet spot, in our opinion.  Note that there are certain "story" songs that aren't well-suited to an edit. We can certainly advise you of what songs are best if you want to edit them during our pre-wedding consultations!
Bridal Party Introductions
Think: Upbeat, Happy, Fun
American Authors - Best Day of My Life
Pink - Raise Your Glass (recently eclipsed in popularity by "Best Day of My Life")
Robert Palmer - Bad Case of Loving You
Bruno Mars - Marry You
Kool and the Gang - Celebrate
Katrina and the Waves- Walkin' on Sunshine
Hall and Oates - You Make My Dreams Come True
Pink - True Love
First Dance Songs
Think: Meaningful, romantic
John Legend - All of Me
Blake Shelton - God Gave Me You
Jason Mraz - I'm Yours
Jason Mraz - I Won't Give Up
Christina Perri - A Thousand Years
Keith Urban - Only You Can Love Me This Way
Jack Johnson - Better Together
Colbie Caillat and Jason Mraz - Lucky
Sara Bareilles - I Choose You
Hunter Hayes - Wanted
Frankie Valli - Can't Take My Eyes Off of You
Train - Marry Me
Brad Paisley - Then
Rolling Stones - Wild Horses
Queen - You're My Best Friend - SOMEONE, please request this song! We would LOVE to sing this!
Bride/Father Dance (or Bride/Mother/Family Member)
Think: Sentimental
(Many of these songs are suitable for either a bride or groom to dance with a parent/family member)
Rascal Flatts - My Wish
Bob Carlisle - Butterfly Kisses
Heartland - I Loved Her First
Billy Joel - Lullaby
Tom Petty - Wildflowers
Carrie Underwood - Mama's Song
Judy Garland or Israel 'Iz' Kamakawiwo'ole- Somewhere Over the Rainbow
The Beatles - In My Life
Stevie Wonder - You Are the Sunshine of My Life
Groom/Mother Dance (or Groom/Family Member)
Think: Sentimental
Five for Fighting - 100 Years
Rod Stewart or Glee (Acoustic Version) - Forever Young
Eric Clapton - Wonderful Tonight
Lee Ann Womack - I Hope You Dance
Phil Collins - You'll Be in My Heart
Kenny Chesney - Don't Blink
Lynyrd Skynyrd - Simple Man
Ben E. King - Stand By Me
Lady Antebellum - Never Alone
Jason Mraz - 93 Million Miles
It varies from person to person as to what makes a song special enough for a first dance or father/daughter dance, but here are some ideas for your reception. We'd love to hear YOUR suggestions in the comments, too.
Peace, Love & Rock n Roll,
Christine Bainbridge, Sunshine Symphony
PIN THIS BLOG POST:   
Thanks to Ciara and Evan for the use of their photo. Photographer:
Sturazzi