Summer and fall weddings - seems like everyone's having one. And while there is something beautiful about being outside, or under a tent with the moonlight overhead, I believe there's something equally magical about a December wedding and it's a wonderful option that more brides should consider.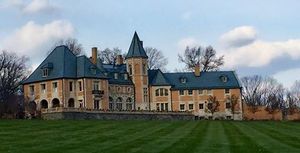 This past weekend, we performed at  Jen & George's wedding at Cairnwood Estate in suburban Philadelphia, PA. This venue is stunning in every detail - from the long driveway as you approach, to the giant front door that makes you feel like you're walking into a castle. And you are, in essence, as Cairnwood is the former country mansion of the Pitcairn family, the founder of Pittsburgh Plate Glass (which you may know now as PPG).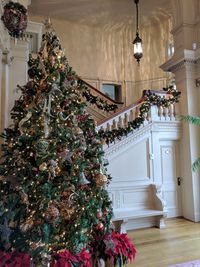 Best Thing About Winter Weddings #1: Holiday Decorations 
One of the most beautiful things about the mansion is that it was decked out for the holidays, with a giant Christmas tree in the main room, plus lights on the giant staircase, greenery, and candles everywhere. By the time the guests started arriving and the reception started, the sun was retreating for the day, but the candelabras gave a soft ,glowing ambience that couldn't be matched at any other time of the year. I can understand that non-Christian brides and/or grooms may not be thrilled by the idea of a giant Christmas tree in your reception space, but most of the decorations were non-denominational and more "wintry" - think pine greens and candles.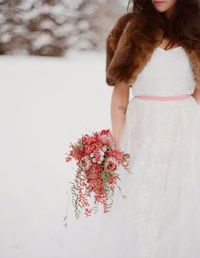 Best Thing About Winter Weddings #2: Winter Accessories
There is something especially beautiful about a bridal gown with a vintage fur stole, modern faux fur look-alike, or woolen coat or wrap to keep your arms warm in your wedding dress (or bridesmaid dresses!). Bride Jennifer wore a beautiful stole over her dress and passed out pashminas to her guests to keep warm if they were chilly. 
Best Thing About Winter Weddings #3: Winter and Christmas Songs
For Jennifer and George's wedding, the Sunshine Symphony duo performed a set of acoustic love songs, and it was fun for us to be able to throw in holiday songs like "Baby, It's Cold Outside," or "Let it Snow." Your favorite classic holiday songs also work well as mixes for cocktail or dinner music, think Nat King Cole, Johnny Mathis, Bing Crosby, Burl Ives or Tony Bennett.
If you love historic mansions and want to visit Cairnwood, they offer afternoon teas once a month and lots of events that are open to the public. You can find more information on their website:  
http://www.cairnwood.org/