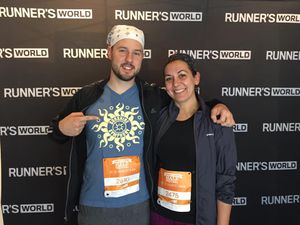 We were so beyond thrilled to team up with Runner's World Magazine again and perform at the Half Marathon Festival this past weekend in Bethlehem. This is the 5th year of the festival, and it brings thousands to our fair town to run through our beautiful, hilly historic city streets.  Both Ricky and I are runners - and we enjoy participating in races to keep us feeling physically fit!
This year, we ran the 10k (and purposefully parked over a mile from the race start so we could get 2 extra miles in as part of our Half Marathon training plan).
The weather was spectacular all weekend long, and especially so for the long half marathon race on Sunday.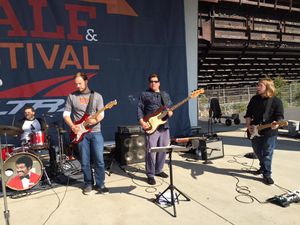 We had to be at SteelStacks, our beautiful arts facility on the south side of Bethlehem, bright and early at 7 am before the streets closed for the race. 
That allowed us extra time to set up and sound check in a very leisurely fashion, which was nice. We thoroughly enjoy performing on the Levitt Pavilion stage. The sound is phenomenal, the crew is great, and the space is gorgeous. 
We played our typical mix of current dance songs, threw in a bunch of 80s and 90s songs, too, for good measure and enjoyed watching the recovering runners dance and sing along as they ventured over to the beer garden post-race.
Congratulations to all of the runners who came from near and far to enjoy the Runner's World events!
We'll be back to play inside the ArtsQuest facility, at Musikfest Cafe for local radio station WLEV's Little Pink Dress Party benefitting breast cancer charities.
-Christine Bainbridge, Sunshine Symphony